I am so excited to share my experience at College Fashion Week Chicago (which was held last Saturday, October 18 at the Revel Downtown) with you, as well as sharing my favorite look from Boohoo, Manchester's best kept fashion secret to one of the fastest growing international etailers.
I received a V.I.P invite from Boohoo, who not only dressed me for the event (I wore their Serena Contrast Lace Halterneck Dress – check it out here and here), but they also gifted me with their must-have staples for fall! I am wearing their Isla Wet Look Waist Trousers paired with their fun #CELFIE tee, and to complete the look I decided to wear their Lola Ribbon Fedora Hat, as well. I am completely in love with this look! Boohoo certainly knows how to combine cutting-edge designs with an affordable price tag because believe it or not: This entire look costs less than $100!
Below is a fun GIF picture of me and my mom at College Fashion Week Chicago (yes, she accompanied me!) that I simply have to share with you! College Fashion Week was such an awesome event, and on this note I would like to thank Boohoo for the V.I.P invitation at CFW, as well as for sponsoring this post.
And before I forget: Please, welcome Bodhi to our family! Our little puppy joined me and my family last week, and we could not be more smitten! Isn't he the cutest?!
As always, thank you for stopping by! Heart you all!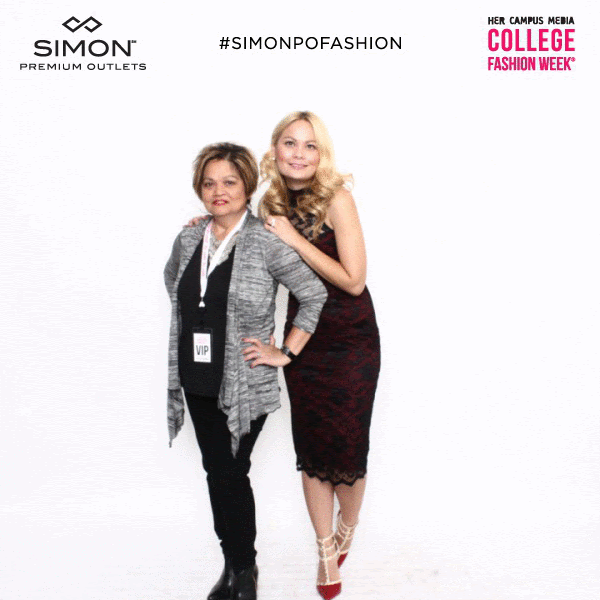 PANTS: Boohoo c/o | TEE: Boohoo c/o | FEDORA HAT: Boohoo c/o | SHOES: Wild Diva via Lulu's | NECKLACE: Monogram Necklace
DRESS: Boohoo c/o | SHOES: Wild Diva via Lulu's | LIPSTICK: Noir Collection Lipstick c/o