For centuries, the suit has been a symbol of male power, and today I would like to beg the differ by wearing a striking all-white suit, allowing me to signal my feminist beliefs.

"I'm my own muse, building a brand based on my own aesthetic."
I'm the first to admit that I'm glad that we at a point now where women are no longer wearing suits to project male power, but rather the power and autonomy is inherent in themselves. We demand success on our own terms and dress accordingly. And you know what?! I'm incredibly proud. I'm proud to call myself a working mom who's not afraid to take risks in order to achieve my own dreams and goals.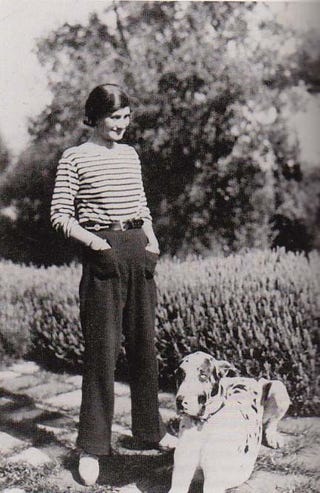 As I'm writing this I came to think about Coco Chanel. As a pioneering female designer, Coco Chanel revolutionized womenswear in the early 20th century. Did you ever come across this incredible famous photograph (left) of Chanel wearing a pair of trousers?! Such a small act but it paved the way for women in the future. It was during the Roaring Twenties, when women socialized with unprecedented boldness, ushering in a new era of boyish styles.
"A feminist is anyone who recognizes the equality and full humanity of women and men."
―
Shop the Post